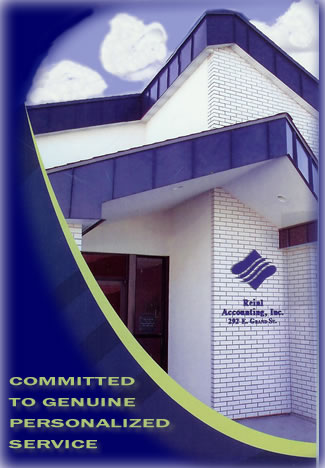 Reinl Accounting, Inc. offers comprehensive accounting services that provide our clients with answers to all of their questions.  We convey straightforward information and provide our clients with the tools to make informed decisions with our support and guidance. 
This website has been designed to become a useful resource to you, our valued clients and visitors.  Because of our dedication to superior client service, we have highlighted background information on our firm and the services we provide. We have also included useful resources such as informative articles and tax alerts in our (Newsletters section) and interactive financial calculators in our (Financial Tools section). In addition, we have taken the time to gather many external links to websites we believe would be of interest to our clients and visitors in our (Links section). 

 
Feel free to contact us with any questions or comments you may have - we'd appreciate hearing from you. Our firm prides itself on being proactive and responsive  to our clients' inquiries and suggestions.
                         *** Due to road construction on Main St., please enter the parking lot from the North on Grand St. ***